Aluminum
Utility

and

Hauler

Bodies

At Hughes Equipment, we specialize in fabricating custom mobile equipment from steel and aluminium. With our aluminum bodies you will have the advantage of a body that is strong and durable, as well as lightweight. Our Utility and Hauler Bodies are designed with the needs of use on or off the farm or ranch and we offer three styles:
Utility bodies that feature side compartment storage, an open cargo area and full height sides.
Utility Hauler bodies also feature side compartment storage with tapered body sides to increase maneuverability while using the integrated 5th wheel roll over hitch (we offer B&W Rollover Hitches) in the open cargo area.
Hauler bodies feature low profile body sides the offer the most maneuverability while using the integrated 5th wheel roll over hitch.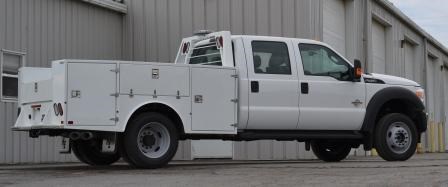 Utility Body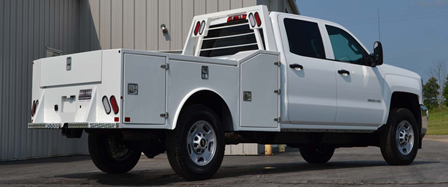 Utility Hauler Body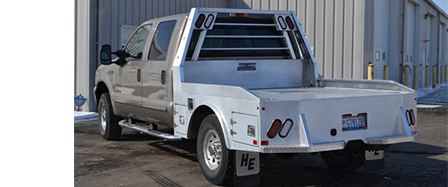 Hauler Body
These bodies feature
Aluminum construction that is both lightweight and strong. Can be painted or left in the raw.
Custom sizes for your truck
Single and Dual Wheel versions
5th wheel
Side packs that offer secured storage
Stainless steel door hinges and latches
Easy latch tailgates
LED stop/turn/tail lights
Customize with
Custom drawer packages
Loadspace and compartment lights
Headache racks
Roll over ball hitches
Bedliner
Treadplate bumpers and overlays
Call us today to discuss your specific needs and we'll custom design a body for your specific application. Whether your fleet is 1 or 101, we can design and manufacture to meet your time and budget needs!
We invite you to call us or stop by our shop at 6879 Sharp Road in Mt. Vernon, Ohio. Our hours are Monday – Friday from 7:00am – 5:30 pm, and typically Saturday mornings until 12:00 noon.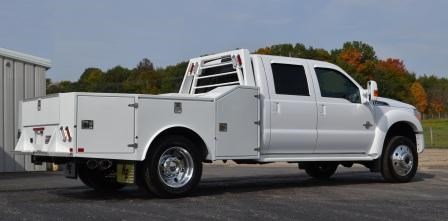 Look for the HE logo! Your Guarantee of Quality!