Contractor Bodies
Hughes Equipment knows that most contractors are a jack of all trades and need to have trucks with Contractor Bodies that are designed to meet all of their needs.
Contractor Bodies offer an open flatbed type cargo area to haul lumber, appliances and other large bulky items, a overhead ladder rack, and lockable top mount and underbody storage boxes. We can help you pick out and install the perfect contractor body.
From top to bottom, Contractor Bodies have what it takes to impress any contractor. Simple to complex, we can help you find exactly what you need to get your job done right. Browse our gallery to see some of the bodies that we have completed for our satisfied customers.
If you are not sure what all you're looking for, give us a call and we can discuss available options.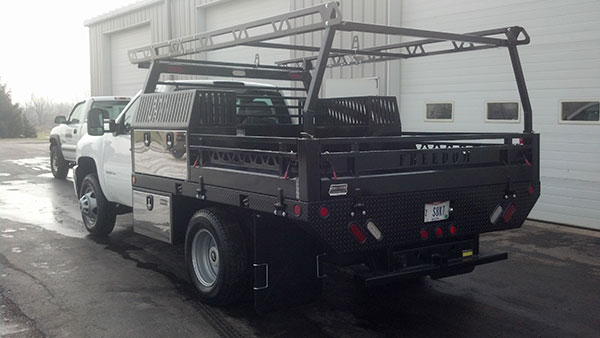 Give us a call today at 740-398-8649 or stop by the shop located at 6879 Sharp Road in Mt. Vernon, Ohio. Or if you'd like fill out our contact form on the contact page, and we'd love to sit down with you to help you pick out the best contractor body to fit your needs.
We do trailers too!
Bodies and equipment for all sizes and brands of trucks!